The St George's Quarter presents its second St George's Day Festival with more FREE family fun in and around the historic area of the city centre.
Family entertainment includes:
-Appearances at intervals from Mike The Knight
-Fancy Dress Competition
-Medieval Comedy Club
-World Wide Dance
-Workshops, live music and much, much more.
Download our App on the day and make sure you don't miss out on anything. Also enjoy great offers and discounts from businesses in the Quarter.
Where?
Liverpool St George's Quarter
What to do?
See Mike the Knight at intervals
Various locations
11am-4.40pm
Fancy Dress Competition
World Museum
3pm-4pm
International Dance
Williamson Square
12pm-3pm
Afternoon of Music & Dance
St George's Hall
11am-4pm
St George's Quest
Walker Art Gallery
11am-5pm
Dragon Headbands
Walker Art Gallery
1pm-5pm
Cuddly Dragon
Central Library
11am-4pm
Decorate your own Knight
Walker Art Gallery
2pm-5pm
Free Craft Sessions
Central Library
11am-2pm & 2pm-5pm
Shakespeare's works
Central Library
11am-5pm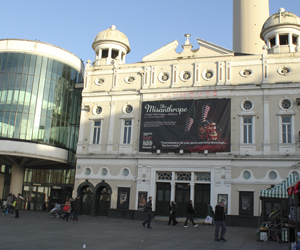 Playhouse Open House & Tours
Playhouse Theatre
12pm-4pm
Medieval Entertainment
Queen Square
11am-5pm
Medieval Craft Activities
World Museum
1pm-4pm
Exclusive new offer!
Britain's most highly accredited tour guides Blue Badge Guides will be running a tour of St George's Quarter during the festival with special discounted tickets: £5 for adults (1/3 off) and free for kids! The tours are 1 hour long and start from 11am and 1pm outside the World Museum. This is a great chance to learn more about the history and culture of St George's Quarter, but places are limited so call 07908 268 356 to reserve a space.
Where to eat?
From nibbles and coffees to restaurants and take away, St George's Quarter has wide offer which suits everybody's preferences.
Queen Square – The world in one square, visiting Queen Square is a must do when spending a day in St George's Quarter, they have all your high street favourites including: La Tasca, Nando's, Ask Italian, Buffalo Jacks and Burger King. All have great deals for parents and kids. Kids in fancy dress eat free at Nando's and La Tasca!
St George's Hall Cafe - Recently re-decorated stylish café serving sandwiches, hot drinks and cakes, on the right of the front entrance.
World Museum Cafe – This café is on the ground floor and serves light refreshments including pastries, cakes, snacks and beverages. Highchairs are available. Free wifi.
Walker Art Gallery Cafe – The café is located on the ground floor and is open 10am-4.45pm daily. They serve hot and cold meals, snacks and drinks, including a children's selection. It is a self-service facility but waitress service is available for visitors who require assistance. A children's menu and highchairs are also available. Free wifi.
St Johns Food Court – Major restaurateurs including McDonalds, KFC and Subway are based at the newly re-furbished St Johns Food Court, take a break while shopping and enjoy their food. Free wifi.
Download the leaflet